Documentation
V3S | Coding | Code Snippets (Forward)
Support
| | | |
| --- | --- | --- |
| | | VHDL |
| | | Verilog/SystemVerilog |
How to Access
Default Shortcut: Tab


Action triggered by shortcut

Description
When in snippet insertion mode, use TAB to move to the next field (and probably show the suggestions list).
Documentation
Upon inserting a (non-trivial) code snippet, Visual Studio enters snippet-editing mode. This mode is almost seamless, so you might not even notice it. However, for some snippets it provides some important functionality.
With

Tab

you move to the next snippet field. Depending on the snippet, there might be multiple fields. Fields are highlighted using a slightly different background. See also the image below.
With

Shift

+

Tab

you move to the previous snippet field.
With

Enter

you confirm the current values and apply the snippet to the code.
Snippet Editing Mode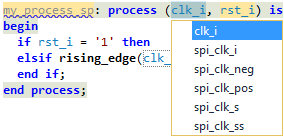 In the image above, there are three dynamic fields:
my_process_sp

: Field for the label of the process

clk_i

: Field (currently active) for the clock signal to use in the synchronous process. Notice that V3S displays a list of possible candidates. One can also enter any other signal-name.

rst_i

: Field for the reset signal of the synchronous process. If the field is activated (by pressing

Tab

), a similar list for possible reset signals is shown.