Documentation
Support
| | | |
| --- | --- | --- |
| | | VHDL |
| | | Verilog/SystemVerilog |
How to Access
Default Shortcut: F2


Action triggered by shortcut


V3S main menu

Description
Allows semantically correct renaming of signals, variables, functions, entities, etc.
Documentation
Remarks
When renaming an entity, all references are renamed:
When renaming port signals of entities/components, all references are renamed:

All port-map/generic-map declarations for entities/components
All component declarations of this entity
All usages of the symbol in the corresponding architecture

When renaming functions or procedures, all overloaded subroutines are renamed as well.
If the current file contains syntax errors, renaming is not possible
Always backup your work before performing refactorization
Always review the changes in the preview window before applying them
Renaming opens all affected files in the editor and does not save the changed automatically. Thus you can undo changes on a per-file basis afterwards
Rename Window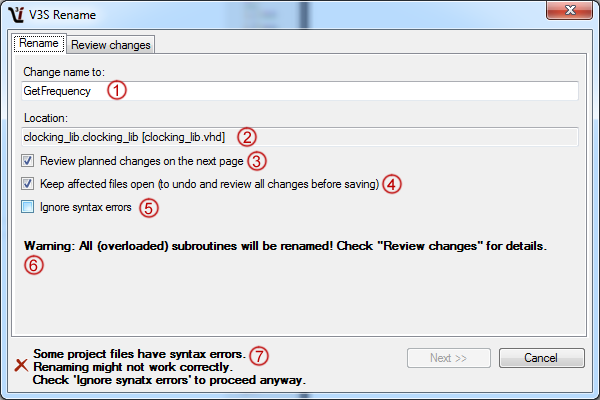 1

Here you can enter the new name of the symbol. Notice that it must be a valid identifier.

2

Shows the location in form of the design's hierarchy as fully qualified name. In this example, the symbol GetFrequency is located in library clocking_lib, package clocking_lib in file clocking_lib.vhd

3

If checked, pressing

Enter

or clicking OK/Next (grayed out in this example) shows the "Review Changes" page rather than applying the changes immediately. You should always review the changes beforehand.

4

If checked, all changed files are kept open and unsaved. This way you can take a look at the changes once more before actually saving them.

5

Renaming might not work properly if affected files contain syntax errors (as in this example). You also get a respective message at the bottom (item

7

). You can only proceed if you explicitly check this checkbox in order to confirm that you are aware of the potential problems regarding syntax errors.

6

If there are any special remarks that might me of interest for you, they are displayed here. In this example V3S informs you that renaming a function also renames all overloads of this function.

7

Status and information area. In case of errors/warnings, they are shown here. Otherwise, a short summary about the planned renaming-action is shown.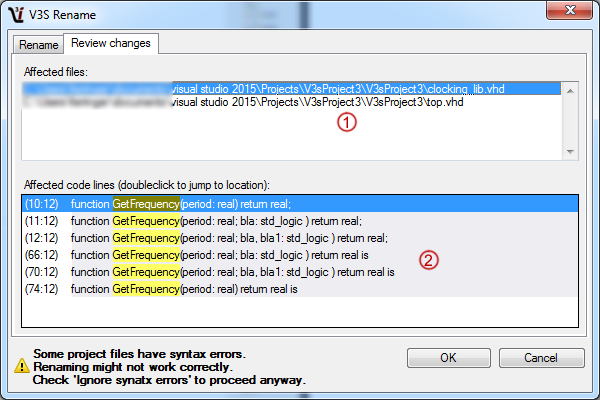 1

This field shows a list of all files that will be affected by the renaming operation. Just select a file (single-click) to get a more detailed overview of the changes in field

2

.

2

Provides a list of changes for the selected file in

1

. You can double-click each entry to jump to the respective source-code location in the text-editor in order to review the intended changes.